China Backstamps - Information and Pictures - Villeroy & Boch
Villeroy & Boch is a German company whose roots date back to 1748. Originally started by Francois Boch, the Boch company joined up with a company ran by Nicolas Villeroy, together making the Villeroy & Boch name.



One of the earliest Villeroy & Boch backstamps, this stamp was used starting in 1883 until about 1885. It features the name of the production factory location, Mettlach.



The connected V and B, for Villeroy & Boch, was used alone starting in 1885 until 1895. The letters appear together like this in many of the backstamps.



This stamp is similar to the first with a slightly more detailed abbey design and different letter box. This was used from 1885 to around 1930.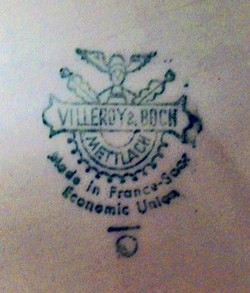 The France-Saar Economic Union stamp was used from 1945 to around late 1955.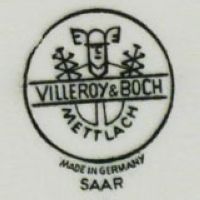 From 1959 to 1970, the backstamp had the Villeroy & Boch name in a circle. Under the stamp as pictured above would also be the pattern name.



Starting in 1970, the idea of the backstamp stayed very similar but the design became much more detailed.



After 1990, this much more linear backstamp now indicates in English, German, and French that the pieces are dishwasher safe.