China Backstamps - Information and Pictures - Noritake


In 1908, Japan's first Noritake backstamp was registered. RC is short for Royal Crockery, or fine china.




In 1911, more backstamps were registered, though these were still only used in Japan.



This is the stamp that was registered for the United Kingdom.



Here is the first Noritake backstamp that was used in the United States starting in 1911.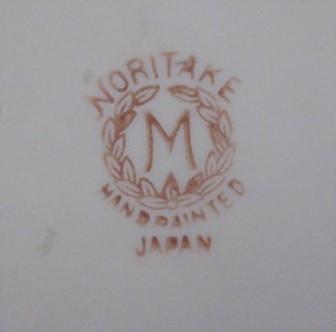 Starting in 1918, the stamps include the English name for Japan. It is artistically similar to the stamp that is used today.



In 1946, after WWII, quality slightly decreased. The company temporarily used the "Rose China" stamp, saving the Noritake name for only their best creations.



Soon after, in 1947, the Noritake name appeared again on a newly designed stamp that acknowledges occupied Japan.




This is the current dinnerware backstamp that has been used since 1953.