China Backstamps - Information and Pictures - Herend
Herend is a porcelain company based in Hungary that was established in 1826. Often, specific numbers are used to identify specific pieces.

One of the earlier backstams shown above was in circulation around 1890.



Shortly after and until around 1915, many of the Herend backstamps featured a simple crown drawing with a scroll underneath.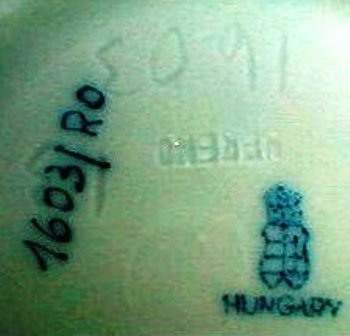 After and until 1930, many of the backstamps featured a small logo design marked with the country Hungary.



From 1939 to 1948, the design of the backstamps was stronger, indicating both the pattern brand name and country.



Since 1949, a selection of backstamps including this one have been in use even now.